read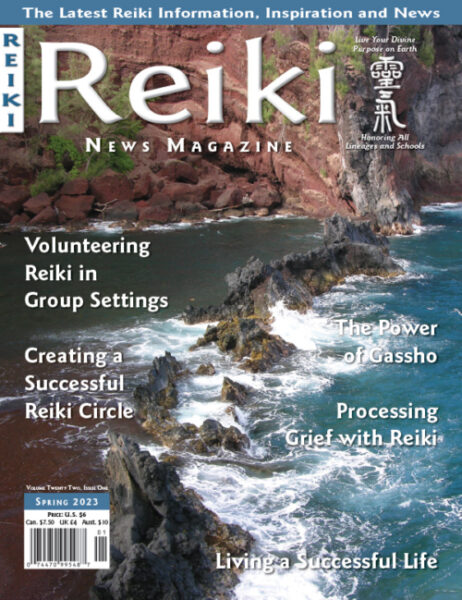 Let's just say my life hasn't gone as planned. I grew up in the American dream with two intelligent, stable, accomplished parents who gave me everything I needed to become just like them. And for a while, I did just that. I married my high school sweetheart, bought a house in a nice neighborhood in Richmond, VA, and became a psychotherapist and empowerment coach. My goal was to help others live the lives of their dreams, just like I was doing. And then reality took over. As hard as I tried, my marriage unraveled.
Finally, during my devastating divorce, I decided the only thing to do, was to take a break. People who knew me were shocked by my decision to leave everything be- hind so that I could redefine my life. From the outside, it appeared I had everything a woman could ever want. Yet, something in my soul knew there was more to life than waking up each day on the hamster wheel conforming to rigid norms.
I asked myself, what did I want to do next? The first thought that came to mind was to get in my car with my dogs and drive as far away from Virginia as possible. I wanted to surround myself with nature and discover who I was in this new phase of my life. So that's what I did. I packed a van with just what I needed and headed to Alaska.
Realizations about my life began happening with each state line I crossed. Immediately, I knew my job as a traditional therapist wasn't helping people heal in the ways I wanted for them. Worse than that, I feared the traditional therapeutic approach kept my clients stuck in old patterns.
Mostly, I started getting honest with myself. I wasn't truly alive. How could I find the blessings given to me in the storm I faced?
The answers started arriving when I lived in the home of a Reiki Master in Portland, Oregon. I had never experienced Reiki, much less considered becoming a Reiki Master. When my roommate, Aura, held a training, she told me it was the program for me. "This ancient tradition believes when someone's life force energy is low, they are more likely to get sick, and if it is high, we are healthy and relaxed," Aura explained. "The practitioner helps to promote energy in the client's body for healing. This experience is just what you need to heal yourself and others."
That night I meditated on Aura's words. I trusted her and her friend Samantha, who provides Reiki in the oncology unit at a local hospital and co-facilitates the classes. I have worked in psychiatric units, hospitals, and schools and seen the many forms trauma can take. Could Reiki and energy work be the missing link for healing trauma? I knew intuitively that this course would change my life. It felt like a wink from God. I spent two days in intense training with Aura and Samantha, learning Reiki's history and how to become a channel for energy. When I emerged from my training, the world looked brighter, and I felt connected to a sense of oneness I had never known.
I could somehow sense and feel other people's energy in a new way. I could even tune into people's energy from a distance, and my intuition was stronger than ever. When friends called or texted, I could feel their presence immediately before the phone lit up. I started having vivid visions and dreams that came to fruition. I couldn't explain these experiences, nor did I fully under- stand them. All I knew was that an entirely new world had opened. I later became a Reiki Master while traveling through Peru.
Reiki and intuition became a part of my healing journey and would also open an avenue for me professionally. I saw my professional path in a new light: clients need psychotherapy and energy work to heal the body, mind, and spirit. I needed to treat the whole person, not just the mind. I had a sense of clarity that my credentials as a Licensed Clinical Social Worker (LCSW) and a Reiki Master would allow me to use an integrative approach. To nurture each client as a whole being, I would focus on the connection of mind, body, and spirit.
When I returned from my journey, I opened Discover Your Wings, a private practice that uses Reiki and traditional therapy models such as Cognitive Behavior Therapy (CBT) and Somatic Experiencing (SE). I also incorporate meditative practices, breathing techniques, and imagery.
My life may not have gone as precisely as I had planned. But approaching transformative times from a place of empowerment, life became more than expected. I have a beautiful daughter and have created a new life in a supportive community near Atlanta, Georgia. I hope my story will inspire women ready to step away from an old self, an old life, and old patterns to discover who they truly are in their essence.
Kara is a Reiki Master Teacher, a licensed clinical social worker, and an intuitive empowerment coach who runs a private practice, Discover Your Wings. She offers Reiki to help women who are on a journey of transformation. Her book, Discovering My Wings describes how Reiki found her and became a transformative practice for herself and her clients. You may reach Kara by email at kara@letsdiscoveryourwings.com or visit her website karakihm.com.
---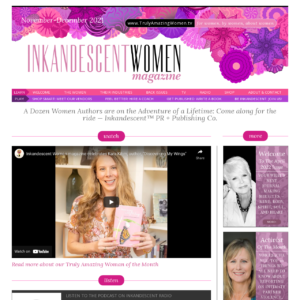 November-December 2021 — Cover Girl: Inkandescent Women magazine: A Note from Hope Katz Gibbs, publisher, Inkandescent Women magazine
For years, I have been watching Kara Kihm's wings unfold. The daughter of my dear friend and former Fairfax County Public Schools principal Carole Kihm, Kara's journey has been courageous, powerful, and familiar.
"I was raised with a traditional southern upbringing and Catholic dogma," explains Kara, who in July 2021 published her memoir, Discovering My Wings: From "Perfect" Wife to an Untethered Life. "Growing up, I learned to be pretty, sweet, quiet, and do whatever it took to make people like me. I married a good provider and moved into the perfect home. I had it all, including the proverbial white picket fence."
Then her marriage fell apart. Everything Kara thought she wanted from her life began to crumble around her. She stood amid the rubble, and rather than crumble too; she decided to redefine it all. What were her passions, dreams, and desires without her perfectly scripted life?
She sold everything, bought a van, and drove to Alaska with her two dogs to answer these questions. When she discovered the voice of her intuition, it led her on an incredible hero's journey, not just across the country but straight into her most authentic essence.
Travel with Kara as she follows her spirit and leaves behind the part attached to people-pleasing and looking perfect. As Kara embraces the vast range of her emotions, she admits that it gets downright messy. But as her journey unfolds, Kara's sense of grit, humor, and passion for life bring her into grace, and the journey ends with her greatest miracle.
As you travel with Kara through the pages of her book, you may start to hear your inner guiding voice, feel your deepest emotions, and let your experiences create you as you live them. She inspires anyone who wants to step away from an old life, old self, and old patterns and discover who you are.
Don't miss our interview with the author of this magical book on Inkandescent Radio and Inkandescent TV. And be sure to scroll down to read the first two chapters of the book! The Inkandescent team knows you enjoy them as much as we do.
About Kara Kihm: A psychotherapist and empowerment coach who runs the private practice Discover Your Wings, Kara also offers profound Reiki energy to help women move gracefully through life's transitions. "The name of my practice evolved from the consistent symbols and spirit guides of butterflies I tapped into during my own transformative journey," explains Kara, who is also the author of Discovering My Wings: From "Perfect" Wife to an Untethered Life, a memoir about her journey through a divorce to the life she longed to live. Learn more about this truly amazing woman: www.KaraKihm.com.
Click here to read about Kara in Inkandescent Women magazine!